Novel This Hidden Thing offers one woman's compelling, ordinary, and surprising life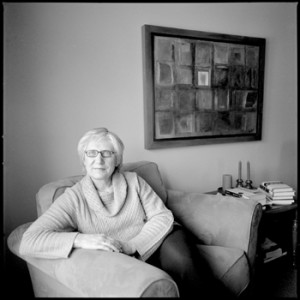 For release June 24, 2010
Following the release of her second novel, This Hidden Thing, Winnipeg author Dora Dueck will be reading at the South Central Regional Library in Winkler on Tuesday, June 29, at 7:30 pm.
"This book is of special interest to our area because part of the story is set in Winkler and provides insight into the experience of Mennonite families who emigrated from Russia," says branch librarian Elaine Dyck. "Many may be reminded of a grandfather or grandmother, aunt or uncle in the characters of the book."
This Hidden Thing tells the story of Maria Klassen, a young Mennonite woman who has recently emigrated from Russia. She soon finds work as domestic for a wealthy English family in Winnipeg, while her family settles in the nearby town of Winkler. Later in the novel, we meet Maria in adulthood – devout, industrious, and dedicated to her family. Yet she is reserved and intensely private. This is the story of a life that contained passion and suffering that no one knew.
Dora Dueck is the editor of Northern Lights: An Anthology of Contemporary Christian Writing in Canada. Her stories have been featured on CBC Radio, and in journals such as Room, Prairie Fire, Rhubarb, and Journal of Mennonite Studies.
For more information about This Hidden Thing visit: www.cmu.ca/news/may6doradueck.html
Order directly from:
CMU Bookstore
600 Shaftesbury Blvd. Winnipeg MB R3P 2N2
Toll-free: 1-877-231-4570 Tel: 204-487-3300
Fax: (204) 487-3858
E-mail: cmubookstore@cmu.ca
Ordering Information:
This Hidden Thing
Dora Dueck
CMU Press 2010 | 350 pages, paper | $19.50
ISBN 978-0-920718-86-5
Praise for This Hidden Thing:
"Dora Dueck tells a compelling woman's story too often obscured by history. She inhabits her characters in such a way that the reader is drawn into a living, breathing world that lingers even after the covers of the book are closed. This Hidden Thing offers a worthy female, urban counterpart to Rudy Wiebe's Peace Shall Destroy Many."
Ann Hostetler, author of Empty Room with Light and editor of A Cappella: Mennonite Voices in Poetry
"Dora Dueck's powerful and deeply engaging novel follows the fortunes of Maria Klassen, a young immigrant whose heart's purest desires are in tension with domestic service, sexual passion, and the demands of family and church. Beautifully and intelligently written, the story transcends its Mennonite particulars to shed light on the universal and timeless struggles of the human spirit."
Sarah Klassen, author of A Feast of Longing and A Curious Beatitude
"I never knew what the next page of This Hidden Thing would bring, never could guess what way the story would go, never imagined what the end would be for Maria, whom I had come to love so deeply."
Katherine Arnoldi, author of The Amazing True Story of a Teenage Single Mom and All Things Are Labor
For more information about CMU Press visit: www.cmu.ca/cmupress
For CMU PRESS information, contact:
Jonathan Dyck CMU PRESS Project Manager
cmupress@cmu.ca
204.487.3300.
For CMU information, contact:
Nadine Kampen CMU Communications & Marketing Director
nkampen@cmu.ca