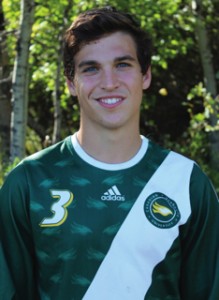 Most children haven't even heard the word hemophilia, let alone know what it means. But at a young age, Nick Czehryn became familiar with the hereditary genetic disorder—which impairs the body's ability to control blood clotting—because his father has it.
As a result, Czehryn and his family have been long-time volunteers with the Hemophilia Society's Manitoba chapter. He can recall being nine or 10 years old, helping the society set up charity races.
His work with the Hemophilia Society is one of the reasons Czehryn was recognized earlier this year with a Terry Fox Humanitarian Award, which aims to encourage Canadian youth who strive to emulate Terry Fox's courage and determination by providing their communities and those in need with humanitarian service.
Czehryn's volunteer work doesn't end with the Hemophilia Society. He is involved with the worship band at his church, Windsor Park United, where he is also a Sunday School teacher. He has also given his time volunteering for SOAR Heartland, a drop in centre for children, and as a camp counselor and lifeguard at Luther Village.
As a student at Mennonite Brethren Collegiate Institute (MBCI), Czehryn participated in mission trips to Winnipeg's inner city areas, was a member of Youth in Philanthropy, and was the co-president of the student council. Athletically, Czehryn is an avid soccer player, badminton player, and swimmer.
"I'm really thankful that I ended up getting the Terry Fox award," says Czehryn, who is currently in his second year of a Psychology degree at Canadian Mennonite University (CMU).
"It's been a great opportunity, and it's also made it possible for me to do things like play soccer and get involved in other things because it takes a lot of the financial pressure off. It makes more room for doing more volunteer stuff and athletics, and getting involved in that kind of way."
After graduating from MBCI in 2012, Czehryn was accepted to a different university, but ultimately chose to come to CMU because it would allow him to play soccer, a sport he's played since he was five years old.
"It's been a ton of fun playing on the team. It's been the best soccer team experience I've had in my life."
Czehryn also enjoys CMU's community life and small class sizes.
"I really enjoy being in a class where there isn't 200 people and you're not a number to the prof—especially in the first and second year courses, it's been nice to have relationships with the profs, be able to ask questions, and get useful feedback from the get-go," he says.
"I also like the community aspect of CMU. It's not come to school, go to class, go home—you can come, you can hang out, you know the people here, and it's a lot of fun."
In addition to his school and athletic commitments, Czehryn still makes time to volunteer with the Hemophilia Society. After he graduates from CMU, he plans to go to medical school and become a doctor—a plan that was inspired at least in part by his father's hemophilia.
When he was young, Czehryn always asked his parents about his father's blood disorder, wondering things like, "Why is dad different? Why can't he do certain things?"
That inquisitive nature has stayed with him.
"Through all that learning I did when I was younger, it got me really interested in how the body works … why things don't work, that kind of stuff," Czehryn says. "And from there, it just kept building as I've grown up."
"Hopefully after med school I'll be able to make a difference in some way."