Workshops to be held Jan. 24 in Winnipeg, Jan. 31 in Winkler
When most Christians think about ways to improve worship, they often think about music—changing the musical style, adding a praise band, singing new songs.
Worship music is important, says Christine Longhurst, but it's not the only thing.
"In recent years, many churches have invested significant time and energy in the leadership of worship music," says Longhurst, who teaches worship and church music at Canadian Mennonite University.
"Less attention has been given to the role of spoken worship leadership—the comments and prayers that move a congregation through the worship order."
In many churches, song leaders are expected to do both musical and spoken worship leading, she notes. But the two require different skills.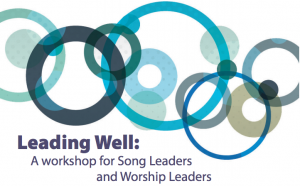 Helping worship leaders and song leaders lead congregations in worship is the goal of Leading Well: A Workshop for Song Leaders and Worship Leaders. Scheduled dates are January 24, at Canadian Mennonite University in Winnipeg and January 31 in Winkler at Covenant Mennonite Church. Both sessions run from 9:30 AM to 12:15 PM.
Cost is $35 per person, and $25 for each additional person from the same congregation. Students are $20.
The first part of each workshop will explore the challenges and opportunities worship leaders face, offering practical ideas for leading congregations into meaningful encounters with God. 
The second part will explore the role of spoken and sung prayer in worship services, offering suggestions for effectively engaging people in conversation with God.
Topics that will be addressed include:
What kind of personal preparation is needed before leading others in worship?
How can we begin and end worship well?
How can we create a helpful flow when moving from song to song, or from song to prayer?
When can comments be more disruptive than helpful?
How can song leaders and other worship leaders work together more effectively?
How can we more effectively engage the whole congregation in prayer?
What kinds of resources are available to help us?
The workshops are geared toward pastors, worship leaders, song leaders, and all those who have an interest in strengthening congregational worship.
For more information or to register visit www.cmu.ca/leadingwell or contact Cori Braun at Canadian Mennonite University: 204.487.3300 or cbraun@cmu.ca.
About CMU
A Christian university in the Anabaptist tradition, CMU's Shaftesbury campus offers undergraduate degrees in arts, business, humanities, music, sciences and social sciences, and graduate degrees in Theology and Ministry. CMU has over 1,600 students, including those enrolled in degree programs at the Shaftesbury Campus and in its Menno Simons College and Outtatown programs.
For information about CMU, visit: www.cmu.ca.
For additional information, please contact:
Kevin Kilbrei, Director of Communications & Marketing
kkilbrei@cmu.ca; 204.487.3300 Ext. 621
Canadian Mennonite University
500 Shaftesbury Blvd., Winnipeg, MB  R3P 2N2