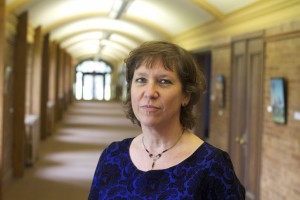 Dr. Sue Sorensen, Associate Professor of English, has taught at CMU since 2005.
What do you love about your work here?
I used to be a bit of a recluse – I thought most of my friends were in books. I never used to be a people-person, but CMU has sort of turned me into one. The best people I have ever met are on this campus, and that includes students, faculty, and staff. There is a real culture of kindness and gratitude at CMU.
What are you reading for enjoyment?
This past summer, I reread some fiction by A.S. Byatt, who is the British writer I did my PhD thesis on. I also discovered Lydia Davis. She's an American writer who writes radically short stories – some of them are only a sentence or two long. And for deep pleasure, I'm re-reading A Dance to the Music of Time, a sequence of 12 novels written by a British author named Anthony Powell.
Where or how do students give you hope?
Students at CMU are well read, extremely well prepared, and intellectually ambitious. Beyond that, the kindness they demonstrate gives me hope. I watch the way they help each other with personal problems, the way they help each other with peer tutoring, and a lot of sort of informal peer counselling that goes on here. When students are in trouble, they circle the wagons and help each other out. Over the years, I myself have been the recipient of this kindness and support that students have offered. It's again that element of incredible kindness, generosity, and compassion that I've seen here at CMU.
What do you most long for in your work?
One of my wishes is that students recognize themselves as my fellow scholars. There's not a hierarchy in my mind where I'm the person that gets to spout some sort of expertise and people are going to soak in my alleged wisdom. Scholarship is an investigative journey that we work on together, as peers.
Do you have any interesting projects underway in the broader community or church?
One thing I'm most excited about in the coming months is that some of my poetry has been set to music and will be sung by Renaissance Voices, a Winnipeg choir led by CMU's own Janet Brenneman. I've written a series of poems about the Virgin Mary and the Annunciation for their Christmas program, and CMU alumnus Jesse Krause set one to music. It's one of the most thrilling experiences I've ever had in my life: to know that my words have now been set to music and that I'm going to get to hear fine singers sing them.
What saying or motto inspires you?
Michael Ondaatje once said, "I'm just writing to try to see clearly." That's quite true and quite wondrous in its simplicity and its depth. A lot of people think that literary writing is about self-aggrandizement. Really, the best writers are not at all narcissistic – they're actually looking for lucidity and clarity. I really prize this very simple quotation by Ondaatje.