'It's a meaningful competition,' says Anna Bigland-Pritchard
Piano, cello, and vocal performances were all part of the final round of the 10th annual Verna Mae Janzen Music Competition at Canadian Mennonite University.
Held on Wednesday, January 28 in the university's Laudamus Auditorium, the competition featured six performers who progressed from an initial field of 18 competitors.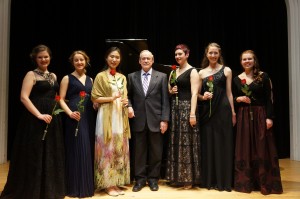 Anna Bigland-Pritchard (soprano), Deidra Borus (soprano), Yunah Chin (cello), Breanna Heinrichs (piano), Alyssa Hildebrand (soprano), and Anneli Loepp Thiessen (piano) were the six finalists.
Bigland-Pritchard, a voice major in her final year of study, was surprised to win first place and the $700 award that comes along with it: She fell ill with laryngitis last semester which put her behind in her preparations for the competition.
"I just felt happy to be a part of the competition," Bigland-Pritchard said. "I'm very humbled, honoured, and excited to win."
Bigland-Pritchard is no stranger to the competition. She participated in 2012 and 2014, placing third both times.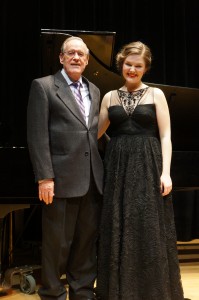 This year, Loepp Thiessen placed second and received $500. Third place and its $300 prize went to Chin.
Bigland-Pritchard said that there is a great sense of camaraderie among the competitors.
"It's a meaningful competition," Bigland-Pritchard said. "We all want the best for each other, even though we're technically competing."
Terry Mierau, a former opera singer and alumnus of CMBC, one of CMU's predecessor colleges, as well as Dr. Darryl Friesen, Assistant Professor of Piano and General Music Studies at Providence University College, served as adjudicators for the finals.
"It was very cool to receive their affirmation," Bigland-Pritchard said. "It's very meaningful to have that kind of feedback."
Janet Brenneman, Dean of the CMU School of Music, said the competition is great because it creates a buzz on campus.
"It allows for students to bring their best performances, and for the entire CMU student body and community to see that play out in this competition," said Brenneman, noting that a capacity crowd filled the auditorium for the finals.
"It's a wonderful opportunity for students to perform their solo repertoire, and to see and hear what everyone else is working on," Brenneman added. "We don't always get that kind of opportunity."
The competition is made possible by Peter Janzen of Deep River, Ontario, and named in memory of his wife, Verna Mae, who died of cancer in 1989 at age 53. Janzen attends the final round of competition each year, and speaks with competitors.
"It's always a pleasure to see Peter," Brenneman said. "He's made a lovely connection with our students. It's not often that students get to connect with a CMU donor in such a tangible way."
For Janzen, sponsoring the event is a way to contribute toward the success of CMU. He wanted to support CMU via a music competition because he and Verna met through their interest in choral singing.
"I always dreamed of someday dedicating a memorial to my wife—a wonderful, loving, sensitive, intelligent, and happy companion," Janzen said in 2007. "Through the Verna Mae Janzen Music Competition at CMU, I can keep her memory alive."
For more photos documenting the 2015 Verna Mae Music Competition finale, please click here.
About CMU
A Christian university in the Anabaptist tradition, CMU's Shaftesbury campus offers undergraduate degrees in arts, business, humanities, music, sciences and social sciences, and graduate degrees in Theology and Ministry. CMU has over 1,600 students, including those enrolled in degree programs at the Shaftesbury campus and in its Menno Simons College and Outtatown programs.
For information about CMU, visit: www.cmu.ca.
For additional information, please contact:
Kevin Kilbrei, Director of Communications & Marketing
kkilbrei@cmu.ca; 204.487.3300 Ext. 621
Canadian Mennonite University
500 Shaftesbury Blvd., Winnipeg, MB  R3P 2N2