A cellist who used to dread performing in concert is the winner of the 11th annual Verna Mae Janzen Music Competition at Canadian Mennonite University.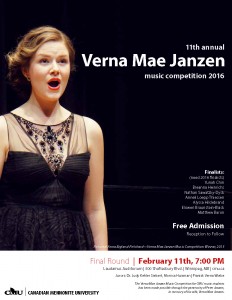 Yunah Chin took the top spot and the $700 prize that comes with it after performing along with six other finalists in the Laudamus Auditorium on Thursday, February 11.
A native of Seoul, South Korea, Chin has played the cello for more than 15 years. She moved to Winnipeg three years ago to continue her studies, and plans to pursue a degree in music therapy.
Chin says that in Korea, she didn't enjoy performing because it made her too nervous. That has changed since she arrived in Canada. Because English is not her first language, she has come to enjoy performing because it is a way for her to communicate with others and express herself.
"It is interesting and fun to play," says Chin, adding that she didn't expect to win. "I thought about showing my everything—not getting nervous, and just showing them what I prepared. I only thought about that.
Chin's performance was breathtaking, says Dr. Janet Brenneman, Dean of the School of Music at CMU.
"She was engaging, imaginative, and inspiring," Brenneman says. "It was clear that the audience was in awe of her performance."
Breanna Heinrichs, a pianist in her fourth and final year of a Bachelor of Music, placed second and received $500. Third place and its $300 prize went to baritone singer Matthew Baron, also in his final year of study at CMU.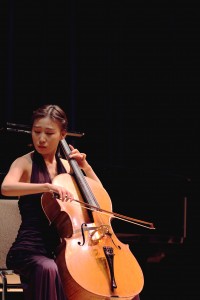 Alyssa Hildebrand (soprano), Anneli Loepp Thiessen (piano), Elowen Braunstein-Black (soprano), and Nathan Sawatzky-Dyck (baritone) also made it to the finals, advancing from a group of 14 competitors.
Judy Kehler Siebert, a Manitoba native with an international reputation as a pianist, chamber musician, and teacher, and Monica Huisman, an acclaimed lyric soprano from Winnipeg, served as adjudicators for the finals.
Brenneman says she was impressed with the quality of musicianship in the competition.
"Each student performed in ways that demonstrated the musical growth they have made during their studies at CMU," Brenneman says, adding that the preliminary round of the competition, which included 14 students, was also very strong. "The decision to advance students to the final round was not an easy task for CMU music faculty."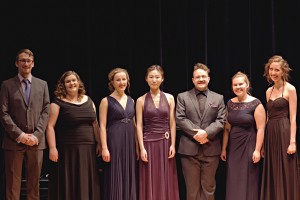 The competition is made possible by Peter Janzen of Deep River, Ontario, and named in memory of his wife, Verna Mae, who died of cancer in 1989 at age 53. Janzen attends the final round of competition each year.
"This is now a much-anticipated event, and a tradition that we are proud to have established at CMU," Brenneman says. "We continue to be grateful to Dr. Janzen for his generous donation and support of this competition."
For Janzen, sponsoring the event is a way to contribute toward the success of CMU. He wanted to support CMU via a music competition because he and Verna met through their interest in choral singing.
"I always dreamed of someday dedicating a memorial to my wife—a wonderful, loving, sensitive, intelligent, and happy companion," Janzen said in 2007. "Through the Verna Mae Janzen Music Competition at CMU, I can keep her memory alive."
Additional photos from the 11th annual Verna May Janzen Music Competition can be found here.
About CMU
A Christian university in the Anabaptist tradition, CMU's Shaftesbury campus offers undergraduate degrees in arts, business, humanities, music, sciences, and social sciences, as well as graduate degrees in theology, ministry, peacebuilding and collaborative development, and an MBA. CMU has over 800 full-time equivalent students, including those enrolled in degree programs at the Shaftesbury and Menno Simons College campuses and in its Outtatown certificate program.
For information about CMU visit www.cmu.ca.
For additional information, please contact:
Kevin Kilbrei, Director of Communications & Marketing
kkilbrei@cmu.ca; 204.487.3300 Ext. 621
Canadian Mennonite University
500 Shaftesbury Blvd., Winnipeg, MB  R3P 2N2