The public is invited to a concert at Canadian Mennonite University (CMU) celebrating the Protestant Reformation.
CMU, in collaboration with the Mennonite Community Orchestra, will present "Reformation 500" this coming Sunday, October 22 at 3:00 PM in the Loewen Athletic Centre (500 Shaftesbury Blvd.).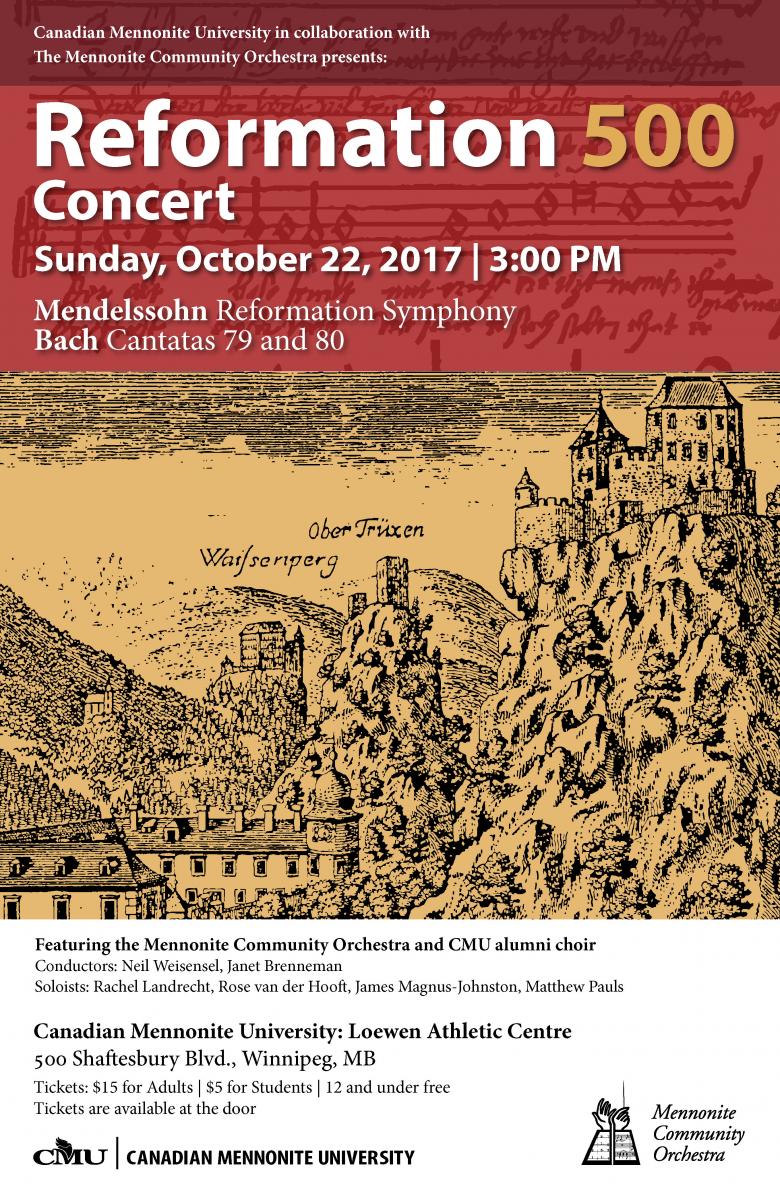 Tickets are $15 for adults and $5 for students, and are available at the door. Children 12 and under receive free admission.
The orchestra, under the direction of conductor Neil Weisensel, will perform Felix Mendelssohn's Symphony No. 5, also known as the Reformation symphony.
Dr. Janet Brenneman, Associate Professor of Music, will lead a choir made up of CMU alumni, the orchestra, and soloists in performing J.S. Bach's Cantata No. 79 and Cantata No. 80.
Soloists include acclaimed Winnipeg singer Rachel Landrecht, as well as three members of CMU's faculty: voice instructor Rose van der Hooft, political studies instructor James Magnus-Johnston, and music lecturer Matthew Pauls.
The concert is a way for CMU to celebrate the 500th anniversary of the Protestant Reformation through music, says Dr. Dietrich Bartel, Dean of CMU's School of Music, who will host Sunday's concert.
The Reformation was sparked on October 31, 1517 when Martin Luther sent his Ninety-Five Theses on the Power and Efficacy of Indulgences to the Archbishop of Mainz.
"My hope is that we can celebrate the Reformation as part of the story of the church, while also being careful to make sure that we also are critical of the story," Bartel says.
He adds that the three musical pieces that will be performed are linked. Each significantly quotes "A Mighty Fortress is Out God," one of Luther's best known hymns.
"I always thought we should be putting our CMU choirs and the Mennonite Community Orchestra together," Bartel says of the collaboration, adding that the rehearsals for the concert have gone well. "Everybody's pretty excited about how things are coming together."
"Things are sounding really great," he adds. "It's going to be grand."
About CMU
A Christian university in the Anabaptist tradition, CMU's Shaftesbury campus offers undergraduate degrees in arts, business, humanities, music, sciences, and social sciences, as well as graduate degrees in theology, ministry, peacebuilding and collaborative development, and an MBA. CMU has over 800 full-time equivalent students, including those enrolled in degree programs at the Shaftesbury and Menno Simons College campuses and in its Outtatown certificate program.
For information about CMU visit www.cmu.ca.
For additional information, please contact:
Kevin Kilbrei, Director of Communications & Marketing
kkilbrei@cmu.ca; 204.487.3300 Ext. 621
Canadian Mennonite University
500 Shaftesbury Blvd., Winnipeg, MB  R3P 2N2