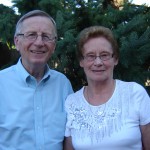 Last year, Arno and Lena Fast (MBBC '55) celebrated their 85th birthdays, their 60th wedding anniversary, and 45 years of ministry at Salem Community Bible Church in Winnipeg's North End. At a time when many are enjoying retirement, the Fasts remain committed to their work at the church.
Salem was close to shutting its doors in 1969 when the Fasts began working there. Since then, the congregation has grown into a thriving, multicultural mix of 100 adults and children. Arno is currently mentoring his 32-year-old grandson into the ministry role at the church. "We don't feel we've done anything exceptional," Arno says. "We just followed the call of God."
The Distinguished Alumni Awards celebrate alumni who, through their lives, embody CMU's values and mission of service, leadership, and reconciliation in church and society. The awards are presented to alumni from CMU and its predecessor colleges: Canadian Mennonite Bible College (CMBC) and Mennonite Brethren Bible College (MBBC)/Concord College.